Izmir is home to a complex of adjacent ancient Synagogues constructed in a unique Sephardic architectural style, dating from the 16th century. Of 34 Synagogues built in Izmir, just 13 remained, 9 of them in the old city of Izmir. Some of these Synagogues which are still active today are in good shape and stand as an example of various architectural styles: Italian, Basilica, and Golden Age of Spain. A Living monument for a Jewish community that once prospered.
The "Izmir project" goal is to restore those ancient Synagogues in need of renovation and turning them, together with those beautifully maintained into an open Museum of "Izmir Jewish Heritage", enhancing inter- cultural dialogue.
Currently we offer the possibility of visiting these Synagogues.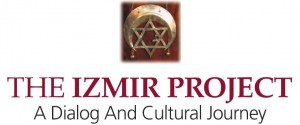 Address
The Izmir project
Izmir
Turkey

The Izmir Project will establish a Living Museum of Jewish Heritage in the restored site of the Synagogues in Izmir. This will promote multi-cultural dialogue with Muslims and Christians and a variety of cultural/historical conferences, and will be responsible for the maintenance of the Synagogues and their contents. An important part in this stage is the restoration of the ancient Synagogues and the selected artifacts to be displayed in the museum and creation of educational/tourism programs to attract visitors, Jews and non –Jews alike, to the site. The project will lead the way for non-Jews in Muslim society to have knowledge about Jewish culture and traditions. This will lead in turn to a better understanding by creating common base for communication between Jews and non-Jews in Izmir.
The Izmir Project, conceived of and led by the Izmir Jewish Community and the Mordechai Kiriaty Foundation, involves documentation, preservation and conservation of treasures from Izmir Jewry. 1. The collection of 2000 holy books dates from the late 16th and early 17th centuries. Part of the library is of well-known rabbis who lived in previous centuries in Izmir, and is a testimony of the religious importance of this community in the Jewish Sephardic world in those centuries, and its influence on European Jewish life. 2. The Izmir Jewish textile collection includes about 202 items: "Parochot" Holly Arc Curtains, Torah Coats, torah Binders, etc. Embroidered in Ottoman style, and telling the historic story of the Izmir Jewish community since the expulsion from Spain. A three years salvation project to document and conserve these rare textile items started on 2013 by the Helsinki University textile conservation department. The Jewish ritual objects of Izmir are not simply artistic or religious items; they tell the amazing story of once flourishing Jewish community in Muslim society.
From the collection