Slovak National Museum – Museum of Jewish Culture
One of the key ideas during the founding of the Museum of Jewish Culture in Bratislava was the effort to eliminate taboos surrounding Judaism and to present the several centuries of the Jewish minority's presence in Slovakia.
The permanent exhibition outlines the history of Jews since their arrival on the territory of today's Slovakia in the 1st century CE until today. It provides a glimpse into the daily life of the Jewish population, an overview of the most important holidays, the interior of a synagogue, as well as important personalities of Jewish origin who put Slovakia on the map in various areas of artistic, cultural, social and scientific life.
The Museum of Jewish Culture began as Department of Jewish Culture of the Slovak National Museum's History Museum. It became an independent specialized museum of the Slovak National Museum (SNM) in 1994. The current museum followed up on the tradition of the first Jewish museum in Slovakia, which opened in 1928 in Prešov.
The Museum of Jewish Culture is located in Zsigray Manor. The building survived the demolition of Židovská [Jewish] Street during the 1960s. After Zsigray Manor was transferred to the ownership of SNM-MJC in 2008, it underwent repairs and renovations and a gala opening of an expanded exhibition was held on 21 May 2009. Aside from the permanent exhibit that opened in May 1993 in Bratislava (Zsigray Manor), the museum also has branches in Nitra (Synagogue), and Prešov (Synagogue). In 2009, the former work camp in Sereď was declared a national cultural monument, and subsequently plans were announced to build there a new Holocaust museum.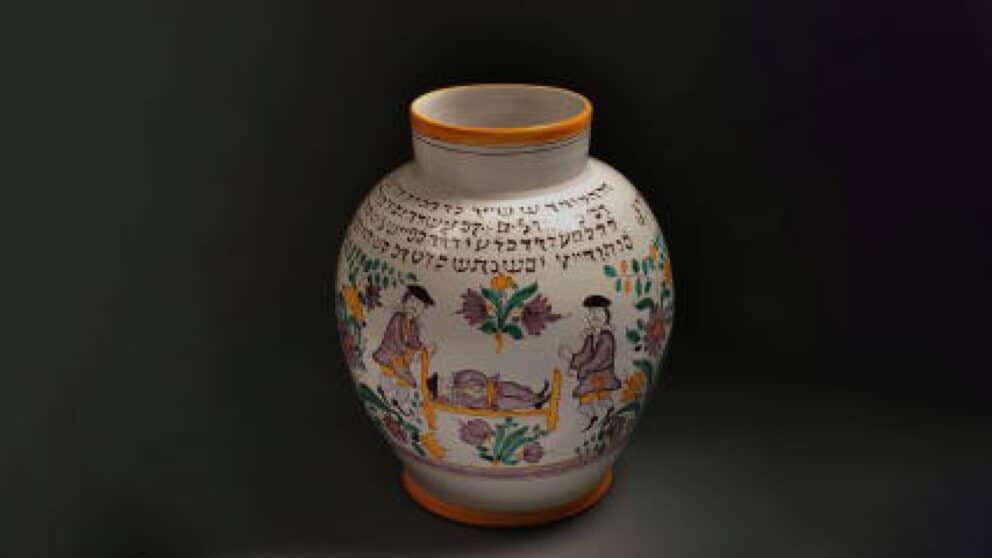 Today the museum has its own collection of almost 5100 items. The museum's library currently contains 5400 items – books, periodicals and special documents.
The museum's most valuable exhibits include a parochet – a synagogue curtain from 1783, a caporet – a synagogue drapery from the end of the 18th century, and two Habaner faience jugs from Senica (1784 and 1776). In 1999, these valuable artefacts inspired a joint Slovak-Israeli stamp edition. Aside from these exhibit items, the museum can also boast parchment fragments of a unique and rare example of the Book of Esther (Megillat Esther) from the beginning of the 18th century.